A fun way to preserve and enjoy the last of the bell pepper plants when the fruit is small but won't have time to grow. Or you just have too many and want to preserve the bounty. Use frozen pepper cups to recycle your leftovers. Take a couple of mini stuffed pepper cups to work for a quick and healthy microwavable lunch.
Mini Green Pepper Cups
A handy way for desperate gardeners to preserve all those small bell peppers that won't have time to mature before the frost hits! Keep in mind you'll need to be able to fit a cookie sheet into your freezer for about five hours, so plan this project accordingly.
Instructions
For your last pepper harvest of the season, pick every pepper, no matter how small. Sort the peppers by size. Any pepper approximately the size of your fist can become a mini pepper cup. Smaller peppers can be diced and dehydrated, or simply used fresh in soups, stews, chilies, however you like them. Any large peppers, just use as you normally would.
Rinse the peppers, slice off the top and clean out the seeds. You won't be using the tops for this project, but you can dice them into small pieces to use fresh.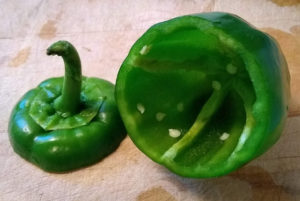 Bring a pot of water to a boil, and drop the peppers in to blanch for no more than two minutes. With a slotted spoon, quickly lift them out of the boiling water into a large bowl of icy water to stop the cooking process.
Arrange the blanched peppers on a cookie sheet. Make room in your freezer to accommodate the cookie sheet. You can use smaller dishes if absolutely necessary. Freeze for 5 hours or until rock-hard.
Carefully place the frozen pepper cups into plastic bags, and store them in the freezer. When needed, just take out as many cups as you wish to stuff.
Notes
Mini pepper cups are a fantastic way to recycle your leftovers into a fresh, fun dinner.  Here' are my suggestions for leftovers to stuff, but I encourage you to experiment with your own foods and create your signature mini pepper cup. 
Chili
Chicken stew
Roast beef and potatoes
Hearty soups
Macaroni and cheese
Any casserole
Sloppy Joe meat
Taco fixings – meat, beans, onions, cheese, tomatoes, mix it all together and stuff. You can include everything but the lettuce and tortillas.
Of course, EVERY one of these suggestions is better with cheese.
Helpful Trick: Use a muffin tin to hold your pepper cups upright for both filling AND baking. Most filled mini pepper cups can be baked at 350 degrees Fahrenheit for 30 minutes.