Book Review: Field Guide to the End of the World
This seems to be my month for reading new-old books. "S" by Doug Dorst and J.J. Abrams looks precisely like a 1949 well-worn library book and is filled with… well we don't have time for that now. I'm setting it aside for the time being in favor of a new old favorite.
The end of the world is coming—ack, it's here, and Jeannine Hall Gailey wants to help us find our way, via what looks to be a well-worn atomic age textbooky field guide.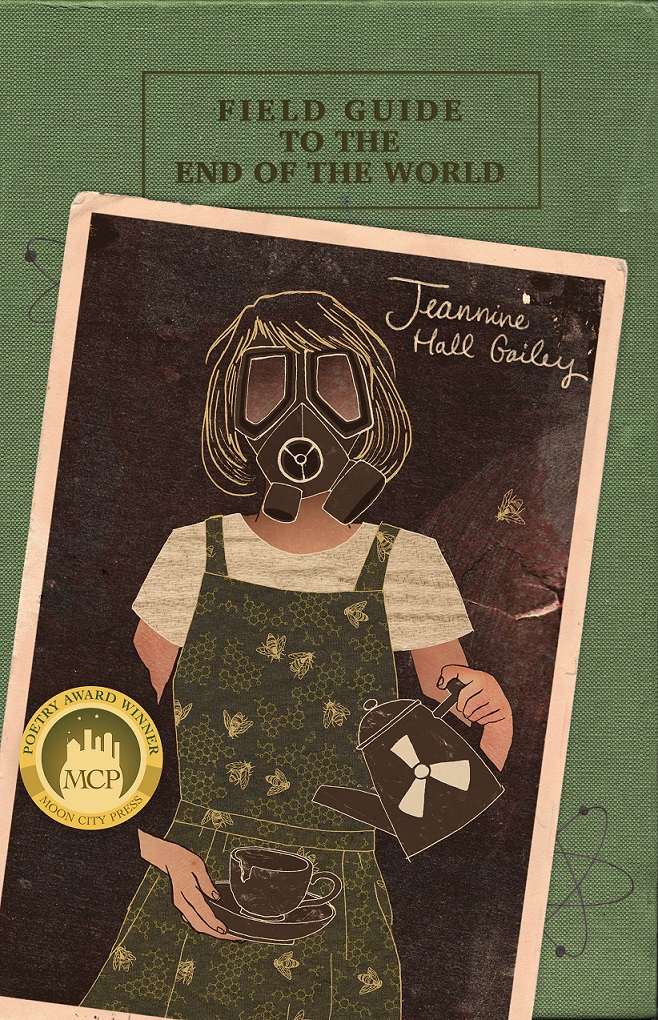 Field Guide to the End of the World is Ms. Gailey's fifth poetry book. I have read The Robot Scientist's Daughter, and thought I knew what I was getting into with her newest (oldest?) book. Ah, but while there are similarities, the author has let her playful side out to romp through the debris of our final days.
The book sorts poems into groupings, which is nice for slipping into a frame of mind and lingering there a while. My favorite section, and I am pretty sure many readers will agree with this, is "Cultural Anthropology". It's a bit like reading the literary version of a Mystery Science Theater 3000 episode, while watching the Food Channel on the side and sneaking peeks over to Netflix. The name that pops out of the poetry listings immediately, is, of course, Wile E. Coyote (super genius), who's been living in a post-apocalypse world since most of us wore footed jammies. Who better to enlist than this ill-fed quasi-predator to be one of the guides on our journey? As it turns out, that guide is as lost as the rest of us, but we can take comfort in wandering in circles together.
My personal favorite is "Letter to John Cusack, Piloting a Plane in an Apocalypse Movie". Take some time to linger on each phrase, and remember. As the saying goes, you'll laugh, you'll cry, it will become a part of you. Actually, it already was, you just needed open eyes to see it.
But I didn't simply hunker down (though hunkering down during the end days certainly has its merit) in the 'funny' chapter. Emotionally, I am still returning often to the "End Times Eschatology" chapter to re-read and re-experience how the end of the world will feel for others. The practical ones, the romantics, the selfless and the selfish, the god-fearers, mistake makers, job hunters. As humanity shares a singular ultimate fate, we approach it from so many diverse roads. There are as many ways to face the end as there are quirks and differences between one person and the next.
I highly recommend you take a field guide with you on your own personal journey. Buy your beat-up old-new copy at Amazon.com or the University of Arkansas Press.
Learn more about Jeannine Hall Gailey and her poetry at her website