Book Review: Flare, Corona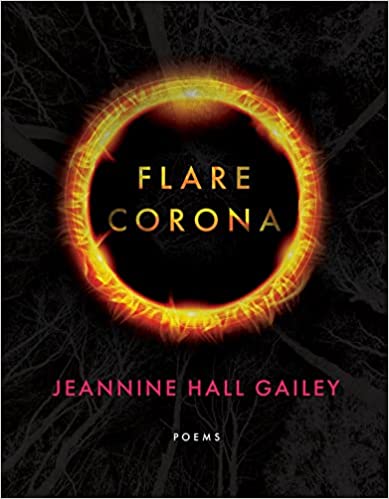 Having previously read The Robot Scientist's Daughter, I felt a familiar sensation as I slipped into that uneasy, tissue-paper-thin comfort zone that Jeannine transports readers to so unnervingly well. Just a glance at the book's section titles — Post-Life, Harbingers, Blood Moon, Corona — sent a flurry of goosebumps up my spine.
Jeannine has a knack for finding connections between the fallout of life in the atomic age and beyond, her own beloved yet traitorous body, and her readers hopes and fears. When that Venn diagram clicks into place, you will find her poems in the crossover spot at the center.
My favorite poem? "Calamity". Of course, I expected a melding of graceful prose with horror, but I didn't expect that it would be dished out this way. I was bowled over. You should have seen the look on my mug! But of course… Things Could Be Worse. (Yes, this is a cryptic paragraph. If you know… you know. If you don't and you are curious, email me.)
I also need to mention "Not Dead but Post-Life", which left me with the feeling that Jeannine somehow was privy to my own past, and a certain person who is no longer among us. If a poem can feel chilling and comforting at the same time, for me, it's this one.
Which poems will resonate with you? I can't predict that. We read them through the lens of our own thoughts and experiences. I encourage you to explore Flare, Corona, and make it your own.
My thanks to Jeanine Hall Gailey and BOA Editions, Ltd. for providing an advance review copy of Flare, Corona, which will be available to purchase on May 9, 2023.