A Conversation with Nekesa Afia
Harlem, 1926. Young Black women like Louise Lloyd are ending up dead.
Following a harrowing kidnapping ordeal when she was in her teens, Louise is doing everything she can to maintain a normal life. She's succeeding, too. She spends her days working at Maggie's Café and her nights at the Zodiac, Harlem's hottest speakeasy. Louise's friends, especially her girlfriend, Rosa Maria Moreno, might say she's running from her past and the notoriety that still stalks her, but don't tell her that.
When a girl turns up dead in front of the café, Louise is forced to confront something she's been trying to ignore—two other local Black girls have been murdered in the past few weeks. After an altercation with a police officer gets her arrested, Louise is given an ultimatum: She can either help solve the case or wind up in a jail cell. Louise has no choice but to investigate and soon finds herself toe-to-toe with a murderous mastermind hell-bent on taking more lives, maybe even her own….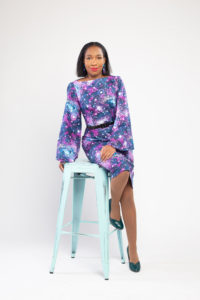 Nekesa Afia is the debut author of this exciting new historical mystery series set during the Harlem Renaissance.
How would you describe Dead Dead Girls?
Dead Dead Girls is a novel of triumph, as my main character, Louise Lloyd, defies the Prohibition-era social norms set on her as she solves a string of gruesome murders in her neighborhood.
Dead Dead Girls is set during the Harlem Renaissance and stars a Black, female amateur sleuth on the case to stop a murderer who is targeting young Black women. What inspired this idea?
The crime was inspired by the 1800s London murderer Jack the Ripper. I was taking a history course where we discussed what life was like during the time of the murders and I was really taken with them. The setting and the characters all came organically as I did my research.
Your protagonist, Louise Lloyd, is courageous, headstrong, and outspoken. What do you think is special about a main character like her? Who inspired her?
I think what's special about Louise is that she is allowed to make mistakes, be wrong, and stand up for what is right. She's an individual, and I hope she inspires readers. For inspiration, I looked towards the fierce women in my family. Louise has spirit, drive, and moxie, and that is a character I am proud to write.
What do you hope readers take away from reading Dead Dead Girls?
I hope that readers take away a different view of the 1920s. It wasn't all Gatsby parties and dancing in the street. It was post World War One, there was a generation of disillusioned young adults, and racism was rampant. I hope to clear some of the rose-colored glasses. I also hope that readers are inspired by Louise's story to be brave in their own worlds.
Read a Sneak Preview of Dead Dead Girls
Read my Review of Dead Dead Girls
Order Dead Dead Girls at Amazon.com